Yu Yu, U U, runtime 4:57
OOF is a Philadelphia based animation collective made up of members Harvey Benschoter, Amy Cousins, Jennifer Levonian, and Ash Wilson.
When we heard OOF was curating this line-up night of innovative, independent  animated shorts during the month of October we got very excited. When we discussed their thematic focus and saw the line-up, we got ridiculously excited. It seemed like a perfect partner event with Ghost.
And what is animation really? Sequential graphic imagery flying past your eyes at 24 frames per second – yes, indeed! But the actual animation resides in the space between the frames. Our mind sees the vacancy left in the passing of an image and then we leap into motion connecting to the next image. What happens in that space between changing images? What propels us forward? The Ghost haunts that space. And Kak Young Lee has taught us that an animation might just be a print that won't sit still. And let's just say it, we love cartoons.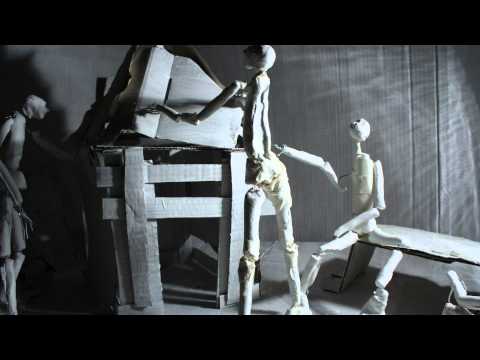 Kristina Centore, White Painted, runtime 2:15
Invisible Ink: A Screening of Animated Shorts Organized by OOF & Hosted by The University of the Arts Animation Program. The organizer's describe the program,
This program brings to the big screen the work of 19 animators from around the world, including iconic independent animators Karen Aqua and Jim Trainor as well as several local emerging artists. Invisible Ink focuses on animations in which seemingly minor or secretive topics take center stage. Using disarmingly simple visuals, these works depict subjects such as bubbling primordial organisms, the rich inner life of a construction flagger, the autobiography of a young bat, or a forgotten family prank. With evocative details and wit, these narratives surprise and invite viewers to reconsider everything from the involuntary actions of the human body to the insects under our feet.
If you are near Philadelphia please come check out this amazing collection of work on the large screen. If this is not possible, enjoy a few of the more ghostly examples embedded in this post on your small screen.
Deets-
Saturday, October 24, 2015 , 7:00 PM
Levitt Auditorium / Gershman Y
The University of the Arts
401 S. Broad Street (Broad & Pine Streets)
Philadelphia, PA 19102
Admission is free.
Invisible Ink will run approximately one hour and includes the following animated shorts:
Karen Aqua | Taxonomy | 4:08 | (2014)
Jim Trainor | The Bats | 8:00 | (1999)
Tim Beckhardt | Pellet Gunn | 2:29 | (2008)
Lori Damiano | Lady Secrets | 1:56 | (2015)
Stefan Gruber | Edible Rocks | 2:49 | (2012)
Ben Aqua | Masculine NRG | 1:01 | (2011)
Becky James| Drainer | 5:20 | (2014)
Lale Westvind | Organism Test | 3:50 | (2009)
Matt Reynolds | Bottom Feeders | 2:48 | (2015)
Jacob Rivkin | Flats and Wagons | 1:54 | (2015)
Kristina Centore | White Painted | 2:15 | (2012)
Nicole Rodrigues | Quake Remains | 2:07 | (2014)
Joshua Catalano | Poulicroc | 3:01 | (2014)
Peter McKenna | Her Hair | 1:14 | (2015)
Caleb Wood | Dumb Run | 1:40 | (2014)
Lei Lei | Big Hands | 6:00 | (2012)
Sijia Ke | Aye | 2:27 | (2014)
Yu Yu | U U | 4:47 | (2013)

Sijia Ke, Aye, runtime 2:27