This post shares a title with a 2006 film by Milos Forman. The single most important moment in that film is this scene of Francisco de Goya hard at work on some prints: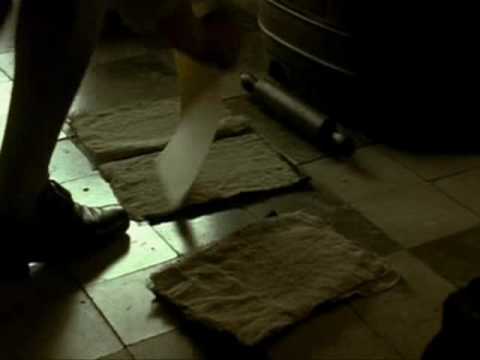 The score of that scene, while not entirely appropriate to the ordinary business of making an etching, certainly captures the spirit of Goya as we have come to think of him. Not content to influence the course of art history, Goya himself became a charismatic and complex figure in that history. Indeed, the artist's dramatic life and works have directly inspired numerous creative projects, from Odilon Redon's 1885 lithographic suite Hommage à Goya, to Michael Nyman's 2000 opera "Facing Goya."
Odilon Redon, The Marsh Flower, a head human and sad
But the true ghosts of Goya are his graphic works. The nightmarish allegory of the Caprichos, the tragic realism of the Disasters of War: while Goya's etchings were made in response to specific historical events, the horror of these prints is unsettlingly timeless. Perhaps this is why the artist's graphic catalogue has been such a rich inspiration for artists. This inspiration goes beyond mere influence: the visual imagination (and the sheer quantity) of Goya's graphic work makes his images ripe for direct reference, quotation and appropriation.
Jake and Dinos Chapman, Great Deeds Against the Dead
The contemporary artists most closely associated with Goya may be Jake and Dinos Chapman (who purportedly considered changing their surname in his honor). Throughout the 1990s the Chapmans' sculptural work quoted liberally from Goya, and they concluded the decade on the master's home turf, with their own series of 83 etchings called The Disasters of War. More controversially, in their 2003 project Insult to Injury, the brothers purchased a set of Goya's Disasters of War that had been posthumously printed in 1937. Subsequently, in an extraordinary form of appropriation, they set about "rectifying" the prints by drawing on top of them. As Christopher Turner has written, it was as if the Chapmans had been "had been haunted by Goya to the point of iconoclasm."
Jake and Dinos Chapman, Sad Presentiments of What Must Come to Pass
The Chapmans are not the only artists consumed by a decades-long obsession with Goya and his legacy. In several suites of etchings, Enrique Chagoya has updated Goya's prints with a simultaneous reverence and irreverence. These brilliant parodies, in all their humor, could never diminish the horror of the original prints. But Chagoya's satirical etchings convey a more explicit political message than Goya was ever at liberty to express.
Enrique Chagoya, Tu que no puedes/Thou who canst not
Francisco de Goya, You who cannot do it, carry me on your shoulders
Few artists have demonstrated the sustained commitment of Chagoya or the Chapman brothers, but the peculiar imagery of Goya has inspired many other significant creative investigations.
In 2008, Yinka Shonibare reinterpreted Goya's iconic The Sleep of Reason Produces Monsters as a series of photographs. In each faithful re-staging of Goya's composition, a man sleeps fitfully amid a tableau of taxidermy creatures. Each of these five photographs is named after a continent, but the outward appearance of the man in each image does not match normative expectations for the continent represented. In a nuanced reflection on European colonialism, each figure is clad in stereotypically "African" batik fabric.
Yinka Shonibare MBE, The Sleep of Reason Produces Monsters (Asia)
Goya's images are both pointed and inscrutable, which makes these prints ripe for re-interpretation. And Goya's own predilections for social commentary allow contemporary artists to deploy his images as an especially potent critical lens.
Francisco de Goya, They've Already Got a Seat
Capricho No. 26, "They've Already Got a Seat," was a signifiant inspiration for a multivalent 2008 exhibition by Frances Stark called "The New Vision," and also a subsequent print edition, the title of which derives from Goya's own manuscript commentaries on The Caprichos:
Frances Stark, Conceited girl wants to show she has a seat (after Goya)
Stark explains: "In addition to the title, there is a comment by Goya that roughly translates as: 'If conceited girls want to show they have a seat the best thing is for them to put it on their head.'"
Ligia Bouton, Ya Tienen Asiento after Goya
In her own critical reconstruction of Goya's Capricho No. 26, Ligia Bouton challenges the underlying suppositions of Goya's satirical perspective. Bouton explains:
"This image, in the context of the Caprichos series, is clearly a censure of what is perceived as the frivolity and foolishness of these young women… In my project, I have made three elaborate garments that involve a harness under each "skirt" to attach the chair to the head. I have then literalized Goya's image by producing a carefully constructed photograph that recreates the original image. Each recreation is one side of a diptych, where the facing image explores the central standing figure from the original image in a new context. This new scene allows for a celebration and empowerment of the female figure while still appropriating Goya's original ludicrous costuming."
In the interest of full disclosure, I confess that in my own creative work I have been drawn to the call of Goya's voice, grasping from the beyond. So I feel qualified to comment here on the potency of these images for artists. Two factors draw artists to revisit Goya again and again: the profound originality of Goya's imagery, and the gut-wrenching power of his social commentary. The former never ceases to inspire, and the latter, tragically, always seems to be necessary.